The season of eating mooncakes is here with Mid Autumn Festival just shortly around the corner. We are all presented with a wide array of mooncake choices from the traditional egg yolk lotus paste mooncake, to the famed durian snowskin mooncakes, to flaky taro mooncakes, to unique mooncakes like ham and fruits mooncake. And we love them. And we can't help but indulge in them again, and again, and again.
Because of this, we are often confronted with a huge guilty complex whenever we finished one oily and calorie-laden mooncake. "What have I done?", "I am going to be SO fat!", "This is SO sinful!", we bemoaned.
This is where Infusion-de-vie is here to rescue. As a strong believer in cultivating wellness in the body and soul, we have 4 organic teas infused with organic Chinese herbs to recommend to pair with the mooncakes you will be eating these weeks to balance out the richness and oiliness accumulated in your body. The best of it all, it eliminates your guilty complex so you can thoroughly enjoy and savour each of your mooncake with a peace of mind.
So, here is a list of 4 different teas we recommend to pair with the different types of popular mooncakes around.
1. Traditional Lotus Paste Egg Yolk Mooncake x Rejuvenate
This is best paired with Rejuvenate: Taiwan Yilan Black Tea, Sun-baked Goji Berries & Astragalus Roots.
Stronger flavoured mooncakes pair well with stronger flavoured teas. Rejuvenate's organic black tea leaves are wood-roasted to create a complex flavour. It is then balanced with the natural sweetness of sun-baked astralagus and goji berries. This tea complements the heaviness of the lotus paste and salted egg yolks by bringing out their flavour. Rejuvenate also removes sedation and bloatedness as it helps in digestion and removes flatulence. No more feeling 'gelat' after you finished a mooncake!
2. Snow Skin Mooncakes x Revitalise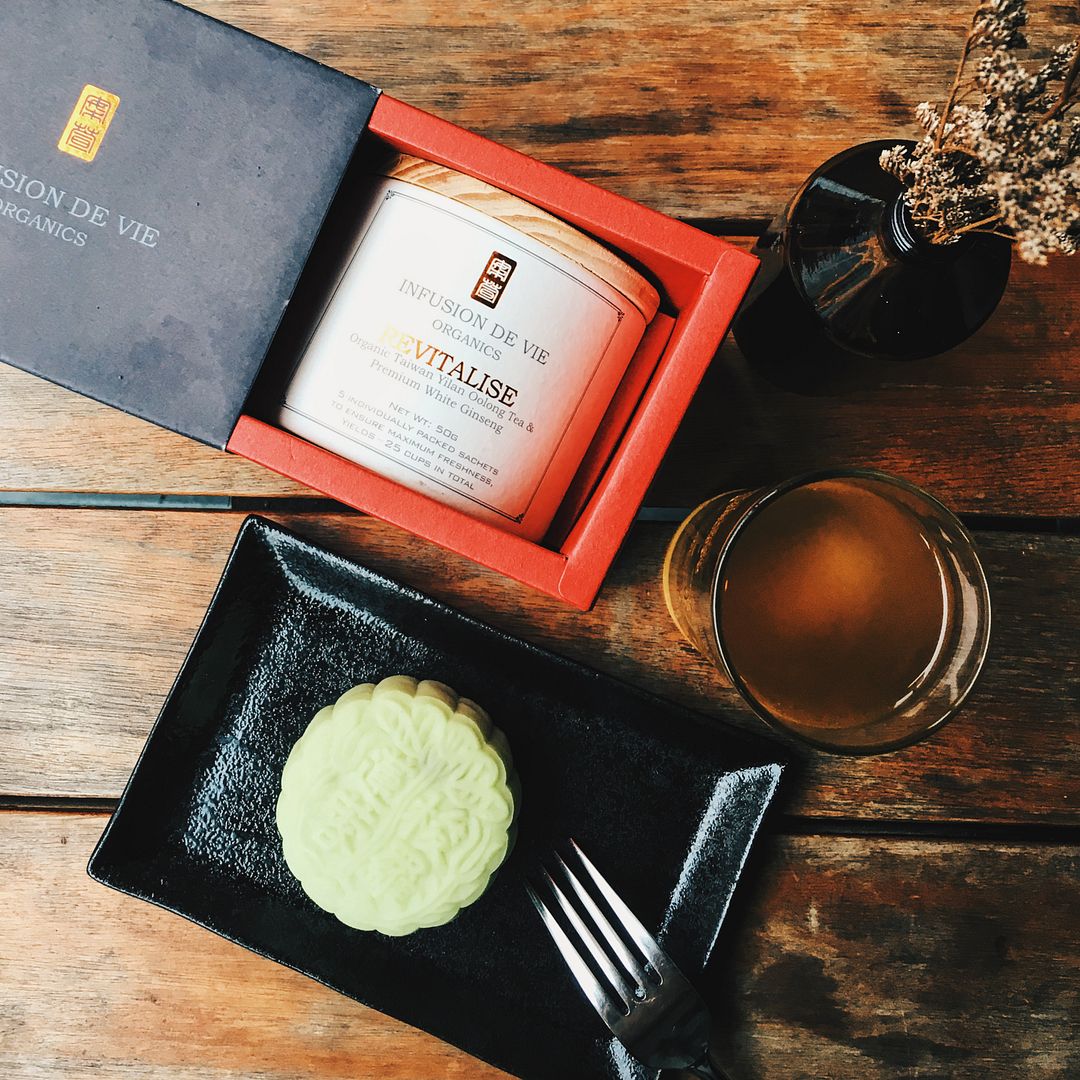 This is best paired with a chilled Revitalise – Taiwan Yilan Oolong Tea & Premium White Ginseng.
Snow-Skin mooncakes go well with chilled oolong teas. The Oolong tea leaves used in Revitalise are 60-70% highly oxidised and wood-roasted to produce a caramelised fragrance. Blended with the white ginseng, it leaves a bittersweet aftertaste, and is highly easy on the palate. The refreshing properties of the white ginseng also balances out the sweetness of the snow-skin mooncakes so that the palate is cleansed after each sip. Definitely makes for a good afternoon snack 😉
3. Flaky Taro Mooncake x Refresh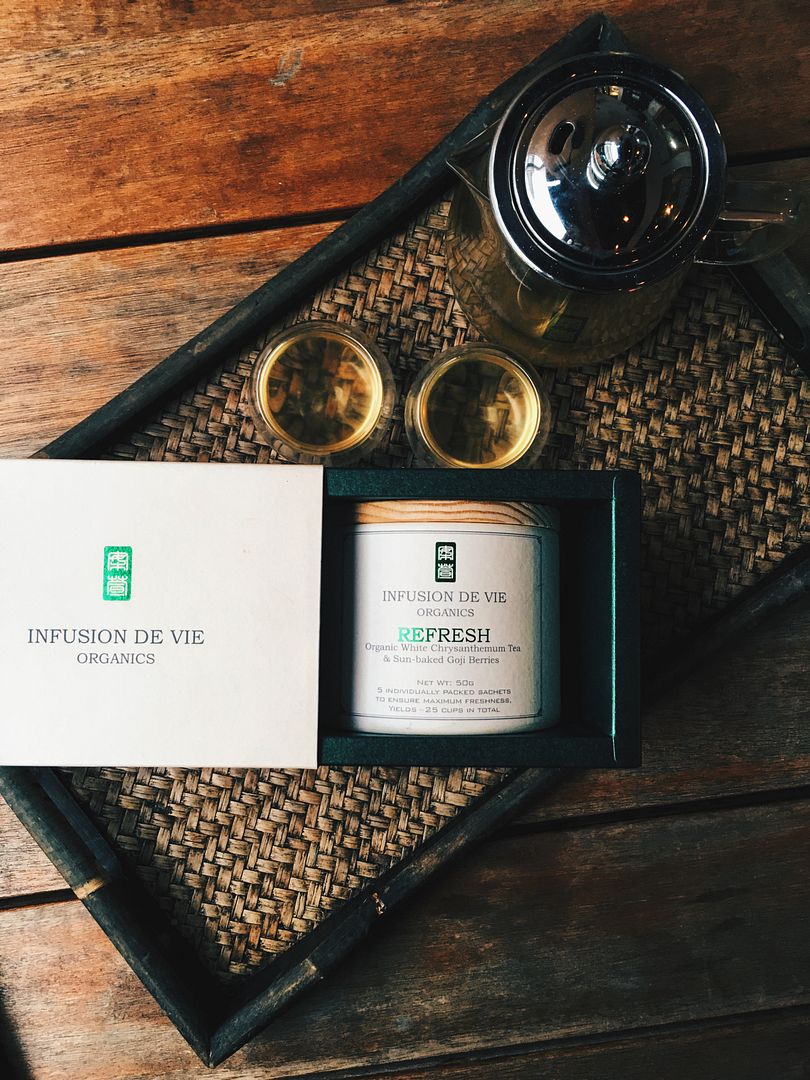 This is best paired with Refresh – White Chrysanthemum Tea & Sun-Baked Goji Berries
Flaky Taro mooncakes tend to be rich and heaty, and it is recommended pairing them with a light and cooling tea. The chrysanthemum used are buds that are clean and freshly picked. They are then blended with natural sun-baked goji berries to produce a tea which is light and highly aromatic. The cooling property of Refresh balances off the rich and heaty characteristics of the Flaky Taro Mooncake to prevent one from falling sick easily after consuming the mooncake(s). Bye bye fever and sore throat!
4. Mixed Nuts and Ham Mooncakes x Relax
This is best paired with Relax – Taiwan Yilan Green Tea & Premium Lingzhi Mushroom
The green tea leaves are freshly picked from the misty lowlands of Yilan, and then blended with the earthly lingzhi to create a tea great for detoxifying the body, and boosting the immunity system. With its strong detoxification properties, Relax helps to neutralise the richness and the oiliness of this mooncake – a good nightcap after a day of feasting! 
Tell us if you had tried the above 4 teas with your mooncakes and if it works. Also, what other recommendations do you have besides the above 4 teas that we had recommended? Tell us by leaving a comment below!
---
For more information about Infusion-de-vie, like us on Facebook, and follow us on Instagram! Seeya there 🙂